Kacie's Ride for Hope… the end of an era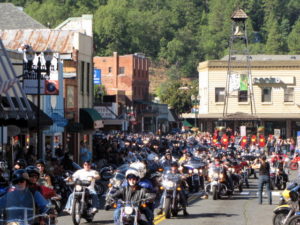 Turning Tragedy Into Triumph – Kacie's Ride For Hope Ends Run After Raising Close To $200,000 For Victims of Domestic Violence.
August 2017 – Kacie's Ride for Hope to End Domestic Violence turned tragedy into triumph after more than 11 years of educating the community about domestic violence. Pat Barron, his late wife Sharon and a dedicated circle of friends created a legacy that will endure long after the roar of their motorcycles fades from the mountains.
In July 2006, 40-year-old Kacie Barron was shot and killed by her ex-boyfriend in the driveway of her Placerville home. Kacie Barron loved riding motorcycles and in September 2006 Kacie's brother Pat Barron gathered a small group of Kacie's friends to do a motorcycle run to honor his sister. They decided to ride to Hope Valley which was Kacie's favorite run. Little did he know that he would turn honoring Kacie's memory into hope for thousands of victims of domestic violence.
Pat established Kacie's Ride for Hope to End Domestic Violence, a nonprofit organized to host a motorcycle run through Hope Valley every year with the goal of educating the community about domestic violence and raising funds for The Center for Violence-Free Relationships, the agency that helped Kacie as she sought to leave her ex-boyfriend.
The ride started small with about 75 riders in 2006, and grew to host over 400 riders in recent years. Kacie's Ride for Hope was a very popular event that drew in motorcycle riders from all across California, Oregon and Nevada to make the run from downtown Placerville through Hope Valley.
Raising close to $200,000 over the past 11 years, Kacie's Ride for Hope has provided safety and shelter to families fleeing violent homes. The Center used funds raised through Kacie's Ride to help victims by providing counseling for them and their children, by providing legal assistance to help with custody and child support issues, restraining orders and divorce filings.  Thousands of victims and their children have been helped over the years all due to Pat honoring his sister's memory.
In 2014, The Center for Violence-Free Relationships dedicated their 18-bed safe house to Kacie Barron. Now called Kacie's House, A Place of Healing, A Place of Hope, it welcomes families fleeing from violence and lets them know that there are wonderful folks in the community that support and care about them. Those entering Kacie's House hear the fantastic story of how one woman's struggle ended and how it sparked the creation of something powerful that would bring healing and hope to so many in our community.
This September there will be no rumble of bikes roaring to life to remember one of their own whose life was cut short, but there will be memories that last a lifetime for those that helped build a legacy to honor Kacie Barron… and she will live on in the memories of those that come to Kacie's House broken but leave healed and full of hope.
On behalf of the Board of Directors, the staff and the volunteers at The Center for Violence-Free Relationships, we want to humbly thank Pat Barron and all of the wonderful volunteers at Kacie's Ride for Hope. You all have made a difference and you have truly touched so many lives.
Kacie's Ride for Hope will not be held this year, but there are still families that need your help. If you would like to make a donation in honor of Kacie Barron or Kacie's Ride for Hope please visit http://thecenternow.org/donate-to-the-center/kaciesride to make your tax deductible contribution. We thank you for your support.