The Rogue Brotherhood is a group of business men in the greater Placerville area. This merry band of lads decided that they wanted to do something to raise awareness about domestic violence and raise funds for The Center. So, they put their heads together and came up with the idea to put out a calendar of their membership in all their kilt finery!
The photos are all taken by professional photographers who have donated their time to make this a spectacular item that you will love displaying on your wall at work or at home. The calendar not only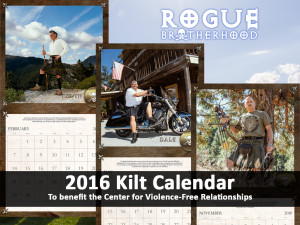 features each of the members in a kilt, but also highlights some of the most stunning sites in an around El Dorado County. You won't want to miss getting yours!
The calendars will be available at the Calendar Release Party sponsored by and held at the David Girard Vineyards on Friday October 16, 2015 from 5:00 – 8:00 pm. To order a calendar and/or your ticket to the Calendar Release Party click here!
Calendars are $20 and all proceeds benefit The Center for Violence-Free Relationships.
Calendars will be available to the general public on October 17th at the following locations:
Breaker Glass – 131 Placerville Drive, Placerville, CA 95667 M-F 9am-4pm
Darr Insurance Agency – 3294 Royal Park Dr., Cameron Park, CA 95682 M-F 9am -4pm
The Center, 344 Placerville Dr., Placerville, CA 95667 M-F 9am-4pm